Frame scaffolding
If you are involved in any type of civil works, our exceptional frame scaffolding is just what you need. The scaffolding can be readily and securely erected around standard building structures; whereas, with the application of support systems (consoles) and girders, they can be set up around structures that are highly irregular in shape, too. Chief qualities of frame scaffolding include hassle-free assembly, a guarantee of secure and practical constructions.
The frame scaffolding is primarily used for:
plastering
painting
thermal insulation
heavy works, such as bricklaying; additionally, when used with a 1.09m-wide platform it serves as a storage for all necessary equipment and material.
Additional use:
stages
elevated work platforms

supporting and carrying structures for all types of billboards, bookstands, TV camera stands, and temporary stands set up during art and entertainment events.
The frame scaffolding is a systemic scaffolding with spacing between frames along the longitudinal axis: 3.07m, 2.57m, 2.07m, 1.57m and two types of standard spacing between adjacent support frames: 0.73m and 1.09m. Owing to the structure of the scaffolding, platforms can be assembled every 2.0m along the vertical line, whereas other building storeys can be of different heights thanks to the application of levelling frames and cross spandrel beams.
Stability and righting capacity are the leading qualities of the frame scaffolding owing to the use of upright and angle braces, and a system of anchors and ties fixing it to the structure of the building. The scaffolding has been issued a B/02/126/04 Safety Certificate by the Institute of Mechanised Construction and Rock Mining, Warsaw, Poland.
Following additional structural analysis, the system can be adapted to suit structures >60m high.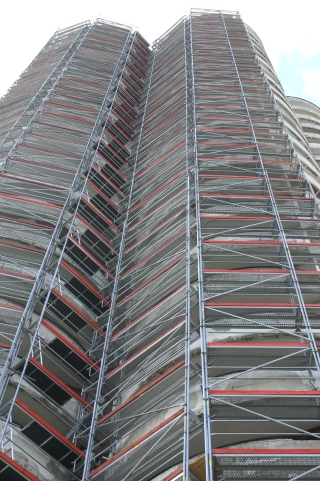 Downloads